Po Fook Hill Cable Car
Cemetery is always the ending of everyone. In whatever place and in whatever culture, cemeteries always give people a feeling of horror and sad.
Located in Shatin, Hong Kong, Po Fook Hill is dedicated to break this destiny! Founders of Po Fook Hill believe, "Death" is an obvious ending of every human and therefore is not a taboo at all. They emphasize that "A beautiful life journey should include its beginning and its ending". If you have ever been to Po Fook Hill, you will have such a feeling. Everywhere inside Po Fook Hill are Chinese pagodas and pavilion, surrounded by birds and flowers. Coupled with the goldfish pond, you can only feel the liveliness within, instead of gloomy feeling that can be found in most cemeteries.
In fact, Po Fook Hill is so different from others. It hosts a beautiful website, constantly advertises on medias and sets up sales offices everywhere in Hong Kong. Although with Taoism background, it is willing to accompany with other religious background of their customers. This makes them well accepted by people and also grants lots of business for themselves.
Apart from that, Po Fook Hill is so special because of one facility inside. It operates a private railway system for their customers, the "Po Fook Hill Cable Car"!
Visiting cemetery during Ching Ming and Chung Yeung Festivals is a traditional Chinese custom. In order to assist their visitors climbing up to hill, Po Fook Hill built an escalator system along the slope. The escalator system allows large number of visitors climbing up the hill quickly. However, it cannot fulfill the needs of elders and wheelchair users. In order to solve this problem, Po Fook Hill also built a Cable Car system. As a cemetery, owning a private railway system itself is so unbelievable. This also makes rail enthusiasts fired up!
"Po Fook Hill Cable Car" can be called as "unknown" to the general public. It is because not a single map of Hong Kong ever showed its existence. Also, no books featuring this system can be found. And even the website of Po Fook Hill did not mention that. So if you have never been to Po Fook Hill, you can never know such a system exists! Even only a few rail enthusiasts know about it. Because of that, let me introduce this hidden railway for you.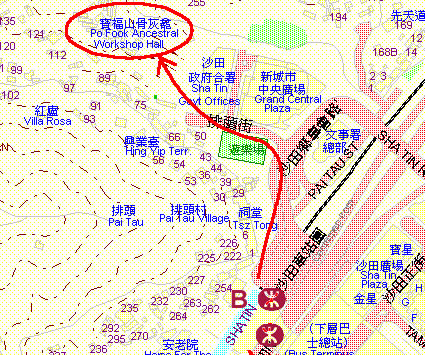 Going to Po Fook Hill is simple. Just exit from Exit B of Shatin MTR Station. Head to the direction of Grand Central Plaza. Po Fook Hill is only in five minutes walking distance.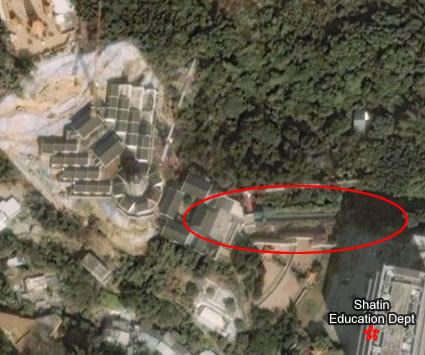 You cannot find "Po Fook Hill Cable Car" from any map. But you can see it clearly in satellite photos of Google Map.