I had a very good sleep in this big room last night. Do you want to see how big it was? Click the video below.
I woke up at about 10. I had a QT inside the hotel room. At around 12, I packed up everything and left for check out.
The check out procedure was extremely simple. I just returned my key card and that's it. I have not paid any deposit beforehand. And they did not check my room before asking me to go. What if I did some little damage in their room and ran away? They even haven't photocopied my passport.
I activated my train pass on the 24th of May. That means the train ticket would expire today. Originally, I planned to stay in Wolverhampton tonight, go to Birmingham today and took a coach back to London tomorrow afternoon. My plane would leave London tomorrow evening.
However, I got a little problem. I ran out of money.
I had many choices. The easiest one was certainly withdraw some cash here and stick myself to the original plan. But I really did not want to be over budget in this trip. In my mind, I got another plan: Went back to London today and stay in Heathrow overnight. I hope my body can afford that.
So I decided to walk to town center in order to save every single penny. The distance between the hotel and town center wasn't very long indeed.
I passed the subways built underneath the roundabout before getting into town center. From the video above, you can see there were lots of rubbish on the floor and graffiti on the wall. This town really did not look very safe. I still don't understand how can I survive in here for 2 years before.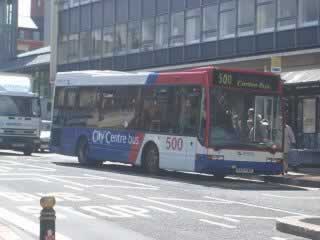 Route 500 was a free circular route sponsored by the Wolverhampton county board. It ran around the town center area of Wolverhampton. Seeing this bus meant that I have reached the town center.
I eventually wanted to the market of Wolverhampton. I used to buy food here quiet often. This place brought back my memories.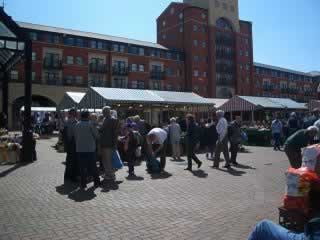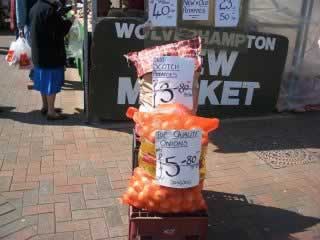 I walked around the open area market first. As you can see from the photo on the right, if you just ate potatoes and onions, you can survive a long time here with little money.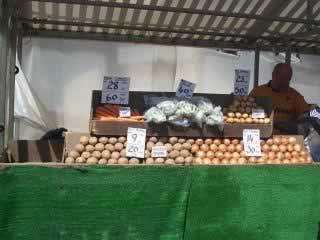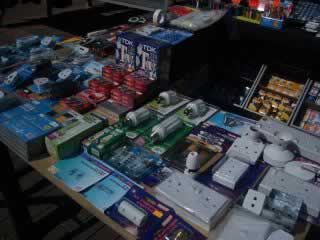 Buying electrical appliances can be very expensive in this country. Electrical stores in open market provides a cheaper solution.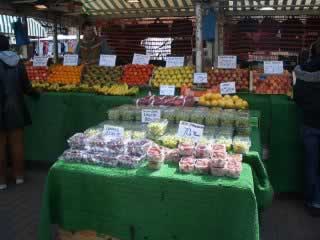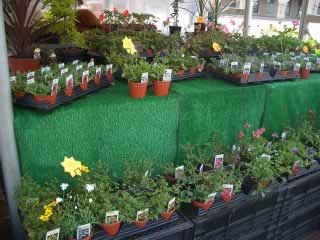 I remembered the girls in my boarding school always liked to buy these potted plants. But to tell you the truth, these plants were all grown in greenhouse. They can't survive for more than a week under normal UK weather.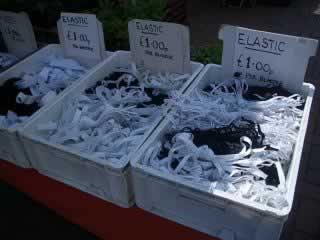 If you love mushroom, immigrate to this country!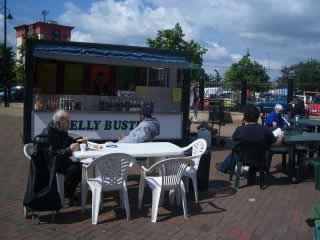 Although the temperature was not really high, around 15 degrees, people all came out to enjoy sunshine and a hot dog.
After walking around the open area market, I moved to the indoor one.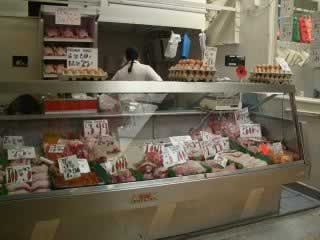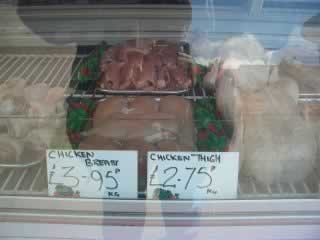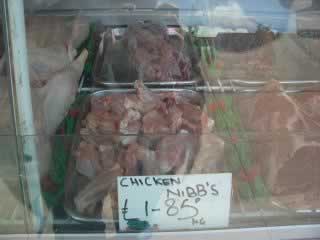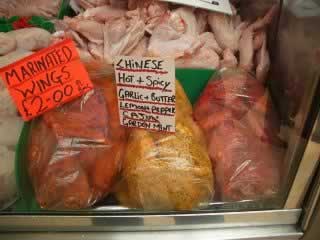 The most common shop inside the indoor market is butcher. This one only sold chicken. Chicken breast was the favorite of most Westerners. And the price was

3.95p per kg. Do you think this is expensive? I think so. But this price was probably the best you can get in this country. Chicken Nibb's is usually called Chicken drumstick in Hong Kong. And westerners did not eat chicken wings. In order to convince them to eat, most of the butchers will try to marinated them with some spices and nicknamed them as Chinese or Indian style. I tried these before. Certainly, they did not taste anyway like Chinese food but were quite tasty indeed.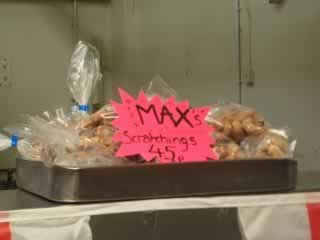 Ha! Ha! Pork scratching! This is deep fried pig skin. Dared to try? Actually, you can find this in a supermarket in Hong Kong called Oliver's, in Prince Building, Central.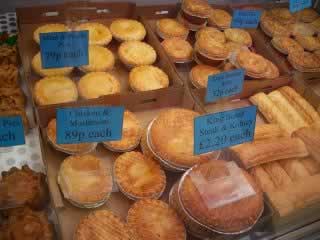 Pies are traditional British food. I loved the kidney pie a lot.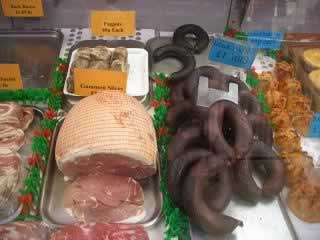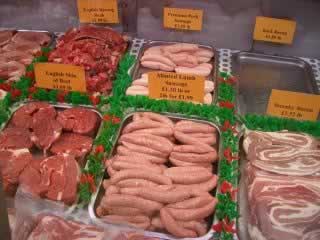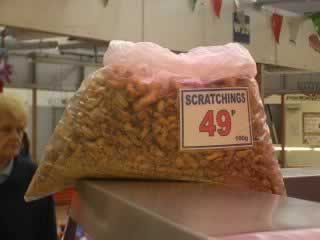 Pork and beef are also the favorite food of British. British sausages are also very tasty. The black sausage on the upper left photo is called black pudding. This is made by ox blood, usually sliced and shallow fried to serve. I tried that before. It tasted disgusting.
Not all parts of the pig were in favor by the British. Pigs tails and pigs feet are typical examples. No wonder they were selling at such a low price!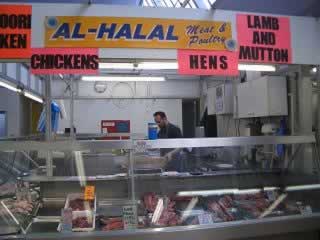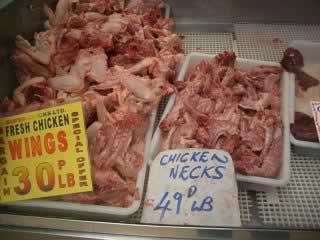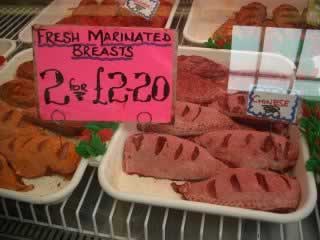 There are Muslim communities in England as well. So here is a halal meat store for their needs. Muslims do not eat pork. So you cannot find pork in this shop. But they sell chicken and lamb. The marinated chick breasts looked very tasty. But I could not buy because I did not have any place to stay tonight.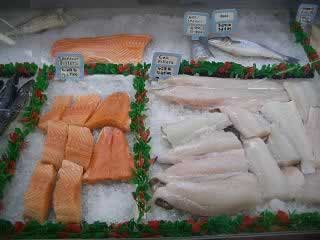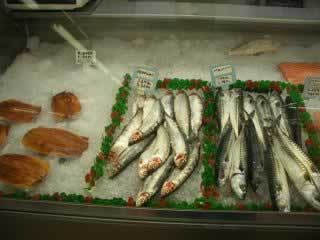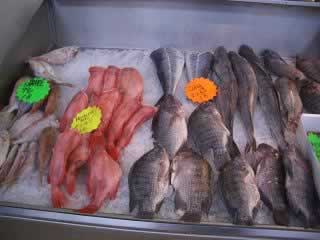 Let's look at some seafood. Scottish Salmon is probably the most famous British food in Hong Kong. Besides them are cod and plaice fillet. These are fishes you can find in large fish 'n' chips shops. The black fish on the lower right corner of the lower right photo is called St. Peter's fish in England. This fish is probably the only spice that can be found in both UK and Hong Kong.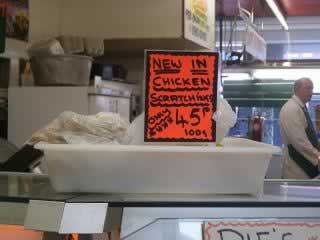 Finally, a butcher was selling a new product, chicken scratching!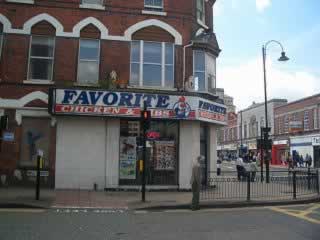 I left the market. Round the corner is this store called Favorite. It used to be a KFC but now the KFC was moved to a better location. I've spent a lot of time in here before.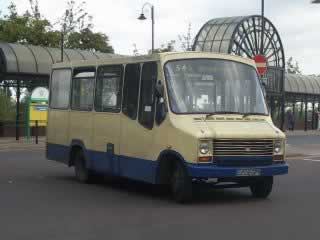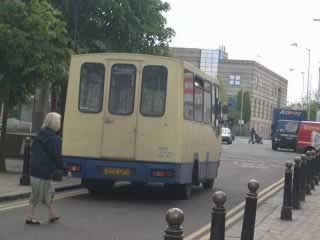 I started proceeding to the railway station. Before I reached the station, I saw this bus. I asked my bus fans in Hong Kong about the model name but no one got a clue.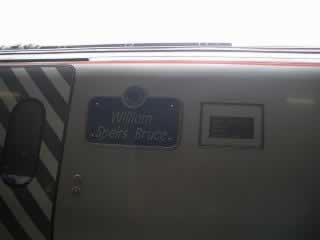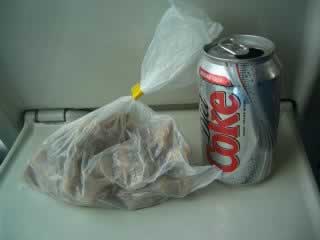 I boarded the train to Oxford. It was a Virgin Voyage called "William Speirs Bruce". I was actually going to London. But if I took a train to London from Wolverhampton, the train would terminate at London Euston. However, Heathrow Express departed from another railway station in London called London Paddington. To get to Paddington from Euston, I needed to take Underground. My rail pass allowed me to travel on trains unlimited. But I could not use it on London Underground. Furthermore, there was no direct underground service from Euston and Paddington. I needed to take Northern Line first and then changed to Circle Line. I could still remember how frustrated I was when I traveled on Northern Line with my large backpack in the morning going to Glasgow. So I decided to take a train to Oxford first and then change a London train from there. Trains from Oxford to London stop at Paddington station. So I could omit the Underground ride and saved money.
My lunch was only a pack of pork scratching and a can of diet coke.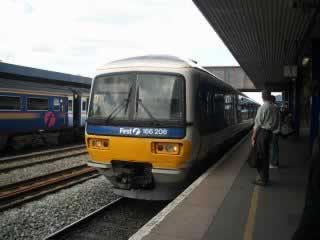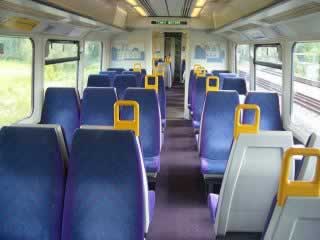 I changed to this regional diesel train at Oxford. The train was a diesel train. It is operated First Rail.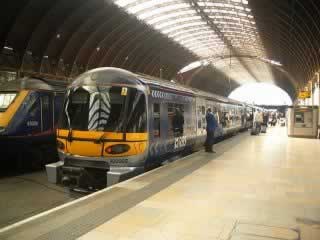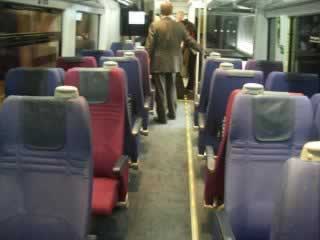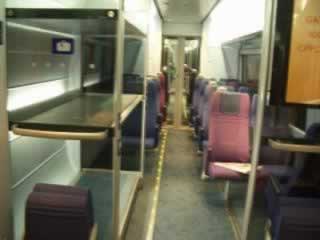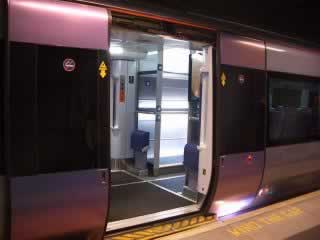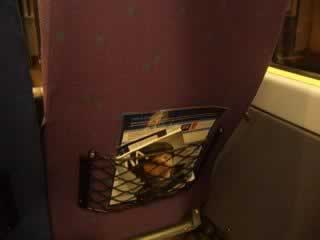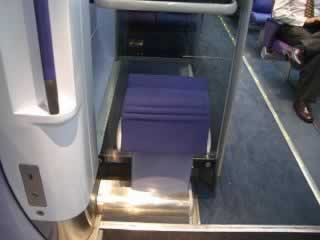 After 3 and a half hours of rail journey, I boarded the Heathrow Express. The train was very modern and fast. It took me actually 15 minutes from Paddington to Heathrow. There were safety cards on board. The train is electric.
I arrived Heathrow at 4pm. I don't know why. I suddenly wanted to go back home right now. I proceeded to the counter of Singapore Airlines. I asked the ground staff if it is possible to fly back a day earlier. The lady was so kind and allowed me, providing that I pay an extra

7.50p for the airport tax in Singapore. I took her offer and took the next plane, which departed at 5pm.
I spent my last few coins on souvenirs and used my mobile to call Brian. He was surprised to hear that I left today.
The plane was only 25% full. I was the only passenger sitting on the row. After a piece of sirloin steak, I raised up the hand rests between seats, lay down and had a good sleep.