I woke up at 6 and felt very dizzy. But I needed to go today. I really wanted to stay in Brian's flat for the following days but I had booked hostels in John O'Groats and Edinburgh. Also, I should not waste my train pass.
So, I left the warm flat and started by lonely journey. After posting the postcards, I bought a ticket to Euston. The time when I boarded the underground train was 6:40pm. I thought I should be able to catch the 0746 departure from Euston to Glasgow. However, the underground journey took me 65 minutes. When I reached there, I had just missed the train. There is no through service from Hainault to Euston. I needed to change to Northern Line at Bank. It was a painful experience to take Northern Line during the morning peak with such a large backpack.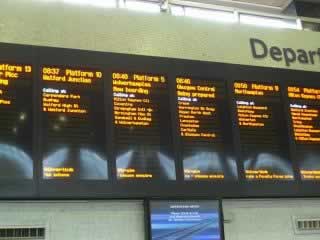 After validating my rail pass, I waited for the next departure of Glasgow train. While I was waiting, I took many bus photos outside Euston station.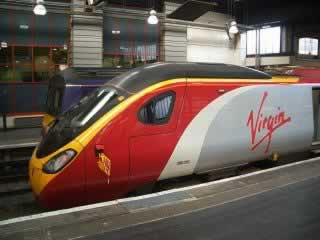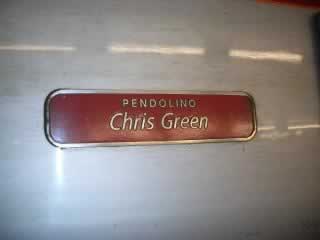 The train service was provided by Virgin. It was a brand new train. It seemed that all the old Intercity 225 were retired. All virgin trains carry a name. The one I took is called "Chris Green".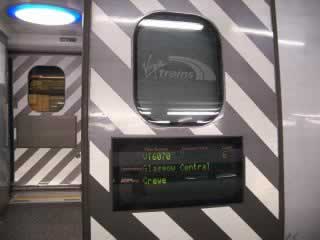 Doors are now automatic, with a display showing the coach number, the destination and the name of next station. I remembered such information could only be found on the display on the platform before.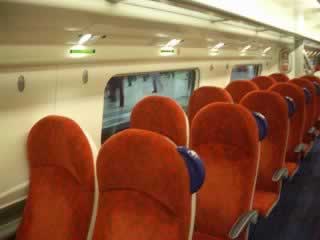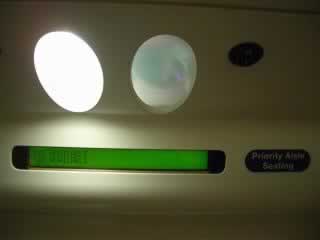 The interior is also improved a lot. There are personal stereo on each seats. And the reading lamps are all working! Underneath the lamp is a LCD showing if the seat is reserved or not.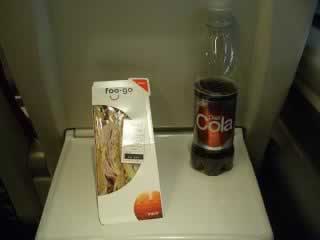 This was my breakfast, a egg & ham sandwich and bottle of Marks & Spensor diet coke. Not bad!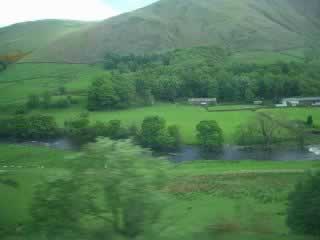 The scenery was very nice and the train was quiet and running very fast. Train service of UK was improved a lot. The trains were modernized and more punctual. The staff were more helpful and polite than before.
After a 5 hour train ride, I arrived Glasgow, the largest city in Scotland. I had not booked any hostel in advance, so the first thing I did is to find a place to stay. Carrying my large backpack, I went to the tourist information centre to see if I had any luck to find a cheap Bed & Breakfast. Unfortunately, the lady in the tourist information centre told me the cheapest Bed & Breakfast in Glasgow will cost around

35 to

50 per night, which is far out of my budget. However, a night in a private-run hostel, called EURO hostel, just cost

12.50p per night. Actually, I have read this information on the web in Brian's home. But the web site did not give me a good impression. The YHA Glasgow hostel was full on that day. As I had no choice, I went ahead to the EURO.
The location of EURO hostel is quiet convenience, just 5 minutes walk from Glasgow Central Station. However, since it is run by private corporation, making money was definitely one of the main reason of its existence. In order to make the most out of the poor backpackers like me, there is a disco, with loud music playing all the time, on the ground floor. This disco was later found to be a disaster. But anyway, without thinking too much, I left my luggage in the storeroom and went to the Museum of Transport, Glasgow.
Even in May, Glasgow gave me a feeling of winter. When I was walking to the underground station, the sun suddenly hid behind the cloud and it started hailing. I didn't expect to see hail in Scotland during late May.
I took Glasgow Underground from Buchanan to Kelvinhall. I loved this little system a lot. With only one circular line, Glasgow Underground served most of the city area. The train was very small in size and they looked just so cute. I bought a day ticket for

1.90p. A single journey costs one pound each. So, it will be cheaper to buy a day ticket if I am going to ride the system more than two times. But the lady calculated the change wrong and gave me a pound more. So my ticket was only cost 90p.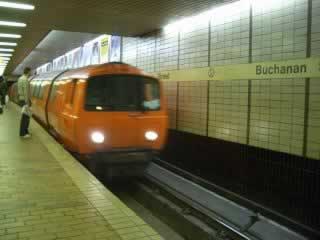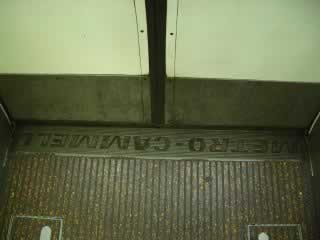 It took me nearly fifteen minutes from Buchanan to Kelvinhall. Transport Museum is situated on a small mount and I needed to walk up a little bit. On the other side of the museum is the campus of University of Glasgow. The view was very nice up there.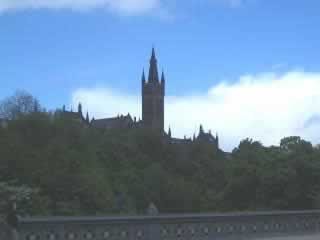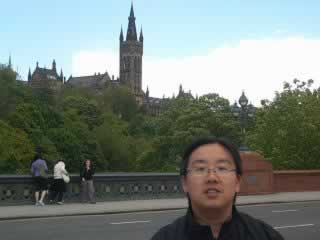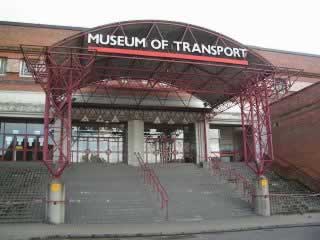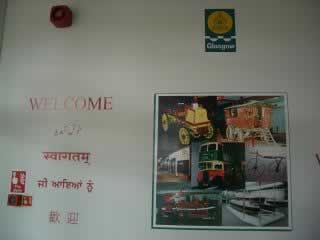 After a 5 minute walk, I arrived the Museum of Transport, Glasgow. I was happy to find out that the admission is free!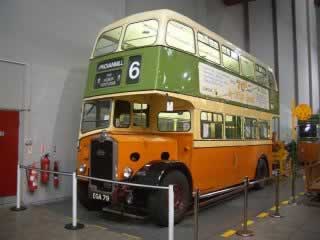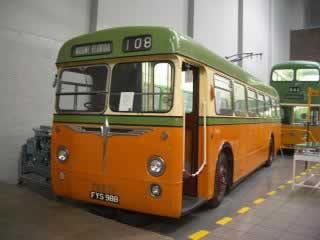 As a bus fans, there was really too much to see in this transport museum. There are altogether 3 buses showing there. The first one is an AEC front-engine bus. The next one is a single-decker trolleybus.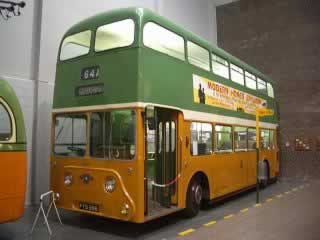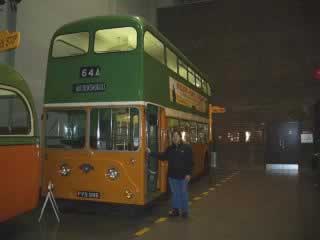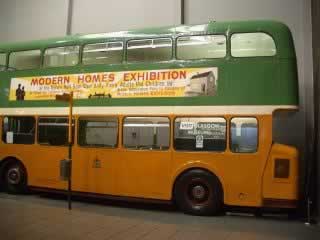 And the third one is probably the worthiest, the world's first Leyland Atlantean with fleet number LA1. The first Atlantean was deployed to Glasgow Transport. Please note that there was no step at the entrance. Only the latest bus models provide this feature.
Apart from buses, there were also trams, lots of trams, double-deck, single-deck, open-top and even horse driven.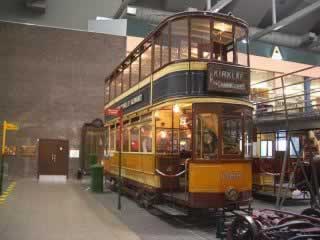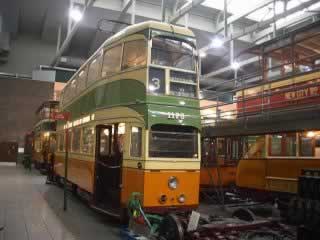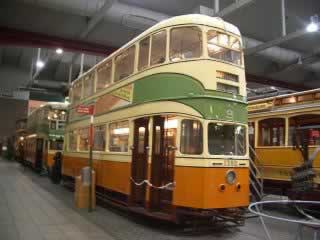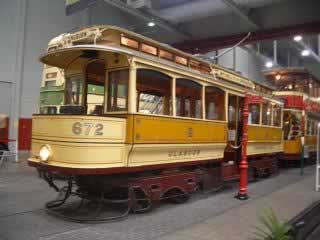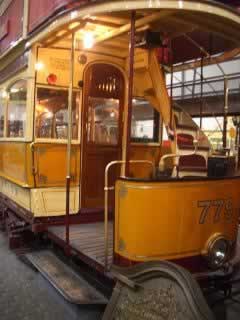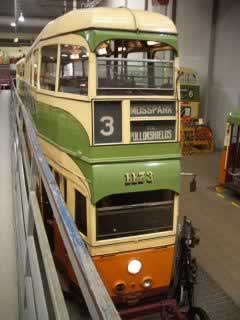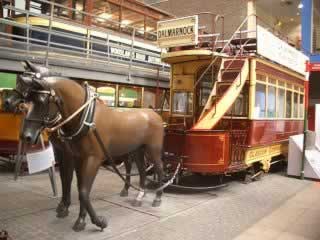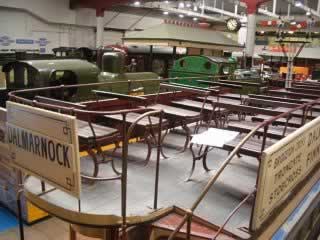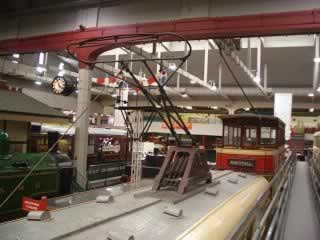 Someone may not know that. In Britain, around the 50s, there were tramways in most cities. But because of their inefficiency, most of the systems were retired, including the one in Glasgow. The following video showed their operation in the old days. I felt that I was so lucky to see tramway running in Hong Kong nowadays.
Apart from public transport, there were also something special inside the museum.
The first one is a Daihatsu van with Islamic decoration. It is a van donated by Pakistan. Funny but ugly!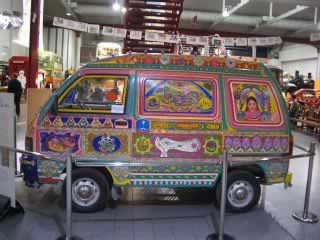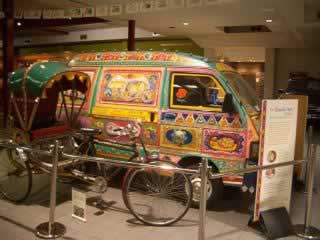 Then, there was a police car from the states.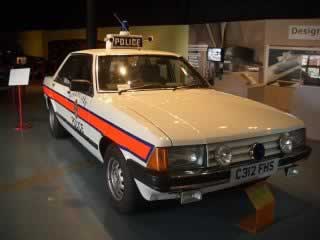 Also, there was a very large collection of classic cars. If you love classic cars, you should make a trip there.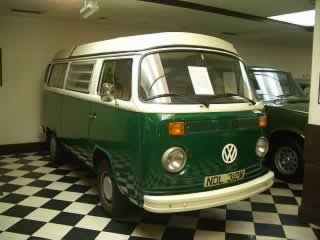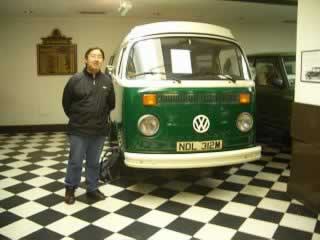 Volkswagen microbus is my number one love car. And there were also many classic models which I couldn't name. Can you name them?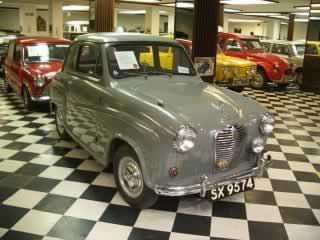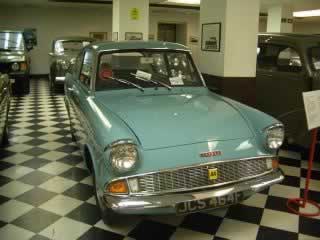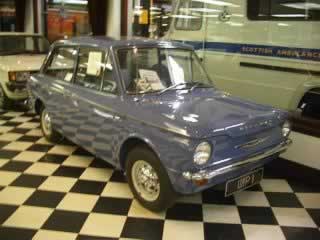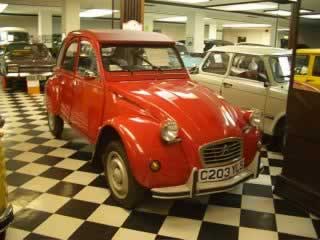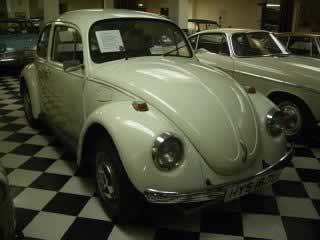 On the windscreen of each car, there was a letter telling you about the history of the car and the owners. Very funny!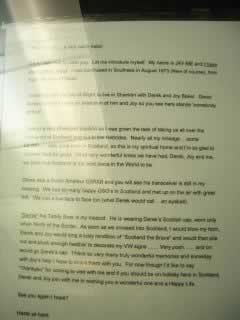 The museum owned a wide collection of vehicles. However, none of them was in operative condition. I knew that some privately owned transport museum in UK got a small testing track in the garden despite their collection was comparably smaller. I think the Museum of Transport, Glasgow, would be more attractive if they can get some of their exhibits maneuverable.
After visiting the museum, I continued to walk up the mount. The Art museum is located on the top.
Since the lady only "charged" me 90p for the underground ticket, I decided to walk back to the city center. I passed along some small streets in Glasgow. There were graffiti and rubbish everywhere. It looked like to be a violence city. I felt insecure even when walking in day time.
I walked into a small phone shop and bought a phone card. The price is only

2, with

1 value. With a number, I was reachable for the rest of my trip.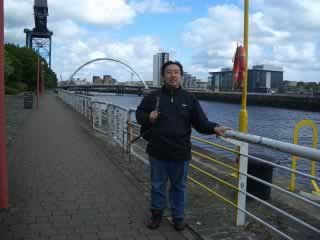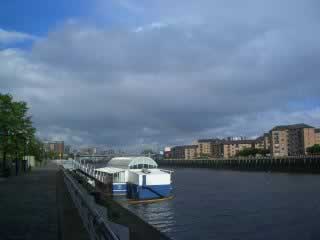 I walked to the side of River Clyde next to the exhibition center of Glasgow. The building was beautiful. But outside the building, lots of public facility were damaged by the people. I could see parking meters with graffiti, twisted fences, burned chairs and lots of rubbish. As one of the tourist attraction of Glasgow, can the government made the place a little bit tidier? Nevertheless, the river side was peaceful in the early evening. I saw lots of people jogging or cycling along the river side. There was also a floating restaurant. A dinner inside cost about

70!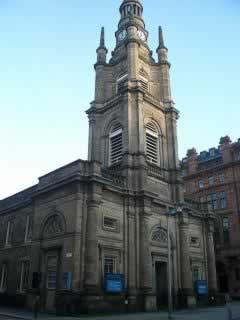 After an hour walk, I went back to Glasgow city center. Glasgow was really a historic city with lots of historic buildings. And you could get a feel of Scotland even by just walking in the high streets. However, the time was 6 already when I got back there. Most of the shops were closed.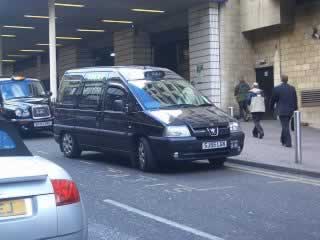 I saw a taxi with wheelchair access outside the Queen's Street Station.
I went back to the hostel. The room should be ready at that time. I was given an IC key card from the reception. Then I picked up my luggage from the store room and went to my room. My room was on the fifth floor. When I got up there, I saw the windows were all opened and I could still hear the music from the disco. How could I sleep that night? The room is a dormitory with 12 beds. I found some strange guys sleeping inside the room when I walked in. An old man occupied a bed at the corner seemed to have some mental problem. And another guy dressed like a construction worker slept on his bed with his shoes on, snoozing loudly.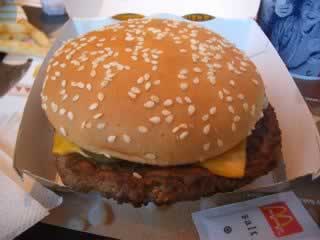 In order to encourage myself, I had a quarter pounder meal in McDonald's. I wrote some postcards there. The temperature dropped dramatically after sunset. I wanted to stay outside for a bit longer but I did not wear enough clothes and started to feel a little bit cold. I went back to the hostel unwillingly and sent out some mail from the computer there. When I went back to my room, I still saw no body there except those two strange guys. I walked quiet to the windows and, without waking them up, shut all of them. The noise level was lowered a lot. After having a shower in a dirty washroom, I went to sleep almost immediately.
Luckily, the situation I worried did not happen. I felt asleep very soon when I lied on my bed.