After 4 hours of sleep, I was waken up by Alan at 6. I was so tired and really wanted to give up my trip and to stay in Singapore for the following days.
We have booked a taxi the previous night and the driver arrived on time. Alan took taxi with me to Yio Chu Kang MRT station, where he took MRT to work. I continued my journey to the airport.
After the immigration officer stamped my passport, I left Singapore theoretically.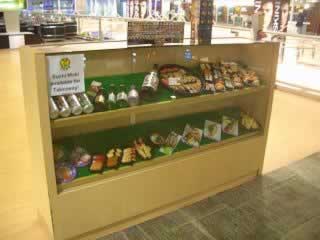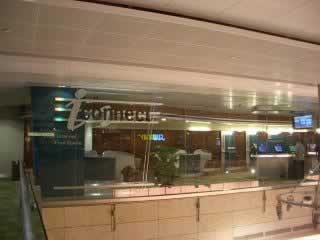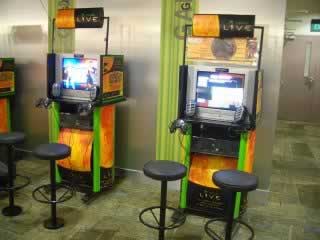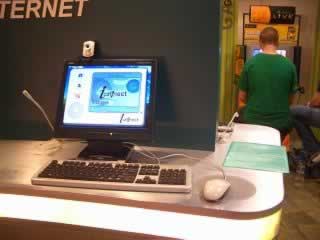 Despite older than Hong Kong International Airport, Changi Airport provides more facilities for their customers. There is a Genki Sushi Restaurant inside the restricted area. And a huge internet lounge is also available. The free internet service is provided by the government, not sponsored by some commercial firms. Apart from internet, you can play Xbox there for free.
I found a quiet place for my quiet time and wrote some postcards to my friends. I got a feeling that if I die in this trip, these postcards would be my final words. And there should be someone able to tell others about the final days of my life. I decided to let Steven to do this job, just in case this actually happened. I decided whenever I got a chance to send postcards, I will send one to Steven. So he will be the person who know exactly what happened in my trip.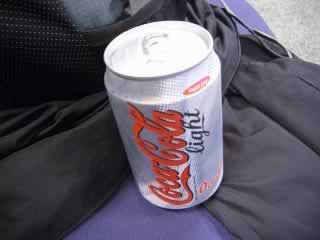 After buying this can of Coca Cola light, I spent all my Singapore coins. Wasn't it a miracle?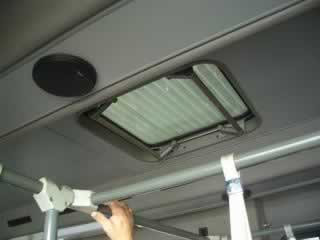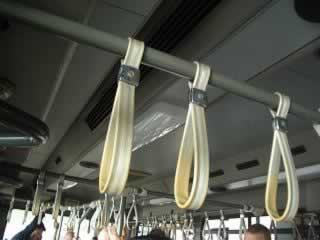 Maybe because the plane was not full, it was parked outside. So I needed to take apron bus to there. 100 Wong commented that was really rare as this shameful activity was not a common practice of this airlines company.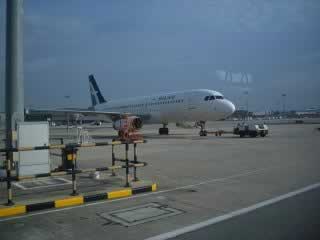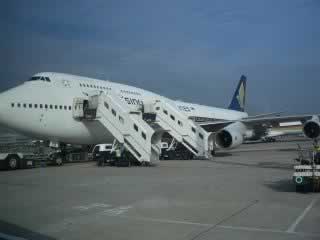 But this bus journey allowed me to take these photos.
Since I had only 4 hour sleep on the previous day, I quickly fell into sleep after the plane took off. I was waken up by the flight attendant when they were serving breakfast.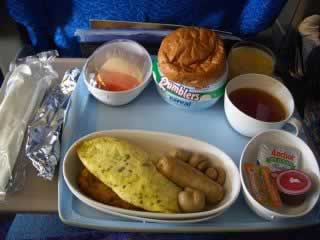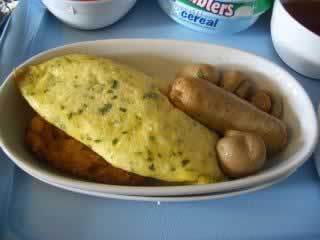 I was a bit hungry. The airlines fed me with British sausage and omelet. They tasted great! I thought it was really great to see food appeared in front of me just 10 seconds after I woke up!
I slept again after breakfast and woke up in the midway. I started playing around my inflight entertainment. With the "view on demand" function, watching movie was really a great fun. But the game was a bit disappointed. The only game I found interesting was this so-called "Super Mario Bros. Deluxe". But it fact, it was the original 1985 edition of Mario Bros. 1 with an additional save function.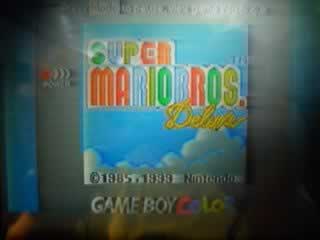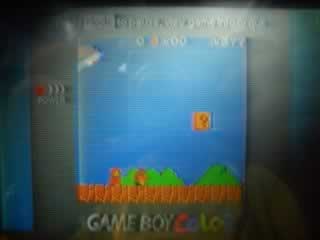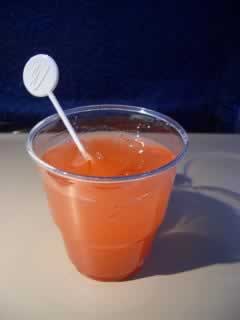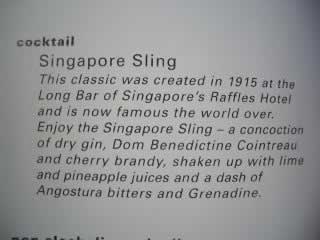 I flipped through the menu and found that they provide a cocktail called Singapore Sling. I ordered one. It tasted good. After a cup of alcohol, I gave up the Mario and feel asleep again.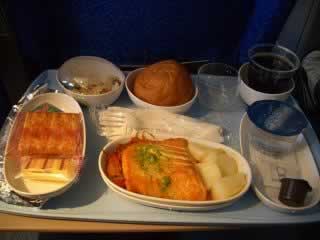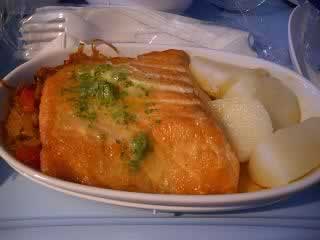 The dinner was also very good. I got pouched Salmon fillet. The meal looked expensive.
After a slight traffic congestion over Heathrow, my plane landed there safely. I proceed to the British immigration, which difficult questions were expected to be asked.
The first question the lady officer asked was the reasons for going to the United Kingdom. As advised not to tell any lie, I honestly told her that I wanted to see the beauties of Scotland and Wales. Seemed not very satisfied by my answers, she kept on asking details of my planned trip for minutes. Finally, she asked if I had any friends in UK. I told her I was actually guaranteed from Imperial College and visiting friends was one of the reason of my trip. Then she stamped my passport at once and let me to stay there for half year, 3 months longer than normal. Why I didn't tell her I was from Imperial at the very beginning?
Okay, I was in United Kingdom. What should I do next? I went to the Heathrow Express Station and found out a single trip cost

14.50p. It was not very wise to spent so much on a 15 minutes train ride, I thought. So I headed to the old Piccadilly Line platform.
I tried to bought a Travelcard with a

5 note but the ticket machine rejected it. Soon, I found out that a travelcard from Heathrow actually cost

6.30p! So I put in a

10 note. But the machine also rejected it. Then an officer came and told me that my banknote was an old edition one and that edition has been stopped circulating for many years! As I had no choice, I put in a

20 notes and got the ticket, with a lot of coins, including the new

2 coin.
Then I tried to call Brian by the payphone and was shocked to know that instead of 10p before, the minimum charge of BT payphone was 30p now. Things seemed to be inflated a lot since 1997! I got some changes from the travel enquiry office, put 30p into the payphone and connected to Brian's mobile. However, 30p can only last for 15 seconds for calling a mobile from a payphone, both located in London! So I ended up using 60p to finish my conversation, which is nearly HK$9.
Brian told me that it would take me 2 hours from Heathrow to his home in Hainault. I just could not believe that and jumped on the train immediately.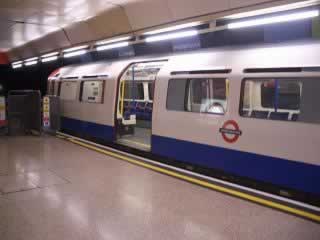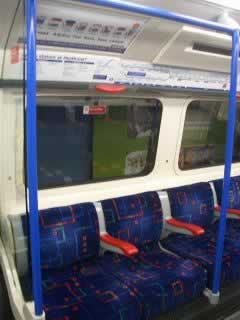 Although the engine was still the old one, it was nice to see a newly refurbished train running on Piccadilly Line. Just minutes after my train departed, I was convinced that my journey would take at least 2 hours. The train paused at nearly every stations for 2 minutes without giving any reasons. And a drunken man stepped into my coach and started shouting to a young man sitting near me. Those were bad experiences I had when I was living in London some 9 years before. I have forgotten already. But now I remembered.
Apart from modernized trains, another thing I found in London Underground was the number of passengers increased quite a lot. After changing trains in Holborn station, I needed to stand until Leytonstone on the Central Line train. After the train passed Barkingside, I got a chance to take a photo of the Central Line train interior.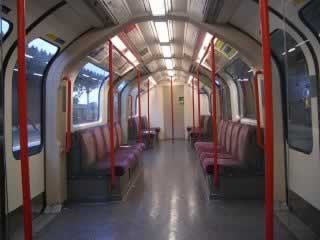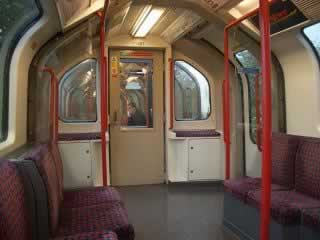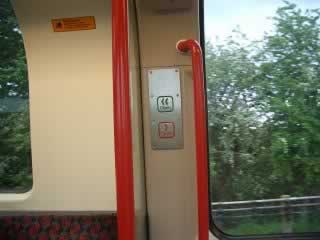 There were buttons on the door of Central Line trains. If you want to get off the train, you need to press the "open" button or else the door won't open. There is also another "open" button on the other side of the door for passengers on the platform. And the "close" button is for closing the door. This is a very clever design as in London, the outside temperature is normally very cold. It is not very wise to open all the doors unnecessarily. But for unknown reasons, it seemed that they have disabled this function. Now every doors will be open whenever the trains stopped in any platforms.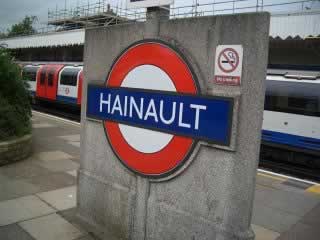 After 1 hour 55 minutes, I arrived Hainault.
I went to the nearby supermarket and bought a can of Diet Coke. That cost me 60p. With the same price, I can buy more than 2 cans in Hong Kong! I started to worry about my budget.
Please pay a little attention to the red post box. The postcards from London was posted in this post box, if you have received one.
Brian drove his car to pick me up. His home is actually 5 minutes walk from the station. Since he got an appointment, he drove me to Barkingside station after I left my luggage in his flat. Barkingside station is very close to Hainault station.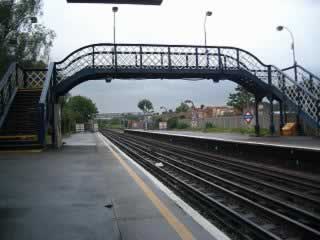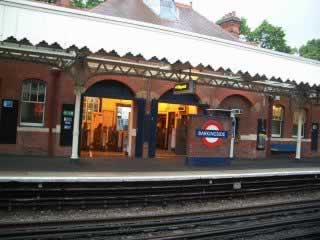 The time was about 8pm and there was still sunshine. Sun set at around 9pm in London during May. As you can see, Barkingside station was quite deserted. I was the only passengers in the station.
The train arrived and I was the only passenger on my coach.
After half an hour on a bumpy train, I arrived Stratford, a large interchange station in East London. I changed the new Jubilee Line extension. It did not reach Stratford when I was in London.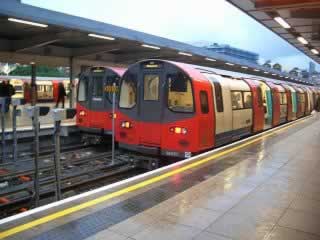 New trains running on new tracks, but the ride was still very bumpy. I arrived Canary Wharf, London's Manhattan.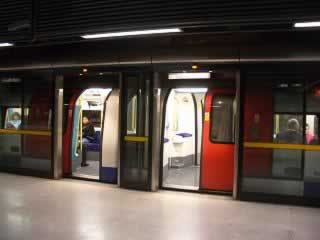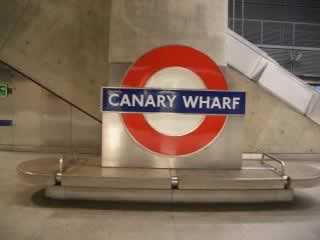 Canary Wharf was one of the few platform fitted with platform screen doors. I walked around the Docklands. I found that there were still many people working in the commercial buildings around. It seemed that the Londoners need to work overtime quite often nowadays.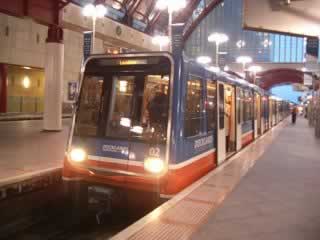 Then I took Docklands Light Railway to Cutty Sark. Cutty Sark was a new station. Before, the train only stopped on the river bank of Thames. I needed to walk underneath River Thames to reach there. Greenwich changed a lot but I managed to find the old fish 'n' chips shop. I ordered a set of Rock Salmon and chips and ate besides the Cutty Sark.
Apart from restaurants, most of the shops were closed. I decided to come again tomorrow.
Since it was getting dark and getting cold, I went back to Brian's home and had a warm night there.